Assassin's Creed has long and been one of the premier gaming franchises that used to produce annual releases for players.
Now that we know more about the next entry in the series, Mirage, players worldwide are amped to explore an entire new region for AC fans.
Before the game releases. we're going to runover all the pre-order editions down below!
Assassin's Creed Mirage Pre-Order Guide - Collector's Edition and More
While Ubisoft has only recently revealed the details pertaining to the story of AC Mirage, they've gone ahead and revealed all the editions players will have the chance to purchase.
As one would expect with a Ubisoft title, there's a bunch to choose from, and each comes with their own premium choice.

For those who don't already know, there's going to be three editions of AC Mirage, with the cream of the crop being the Collector's Case.
So, here's what's included within each Assassin's Creed Mirage:
Standard Edition - $49.99
Deluxe Edition - $59.99
Collector's Case - $149.99
Base Game

Deluxe Pack

High-quality figurine of Basim

Replica of Basim's brooch

An exclusive steelbook and more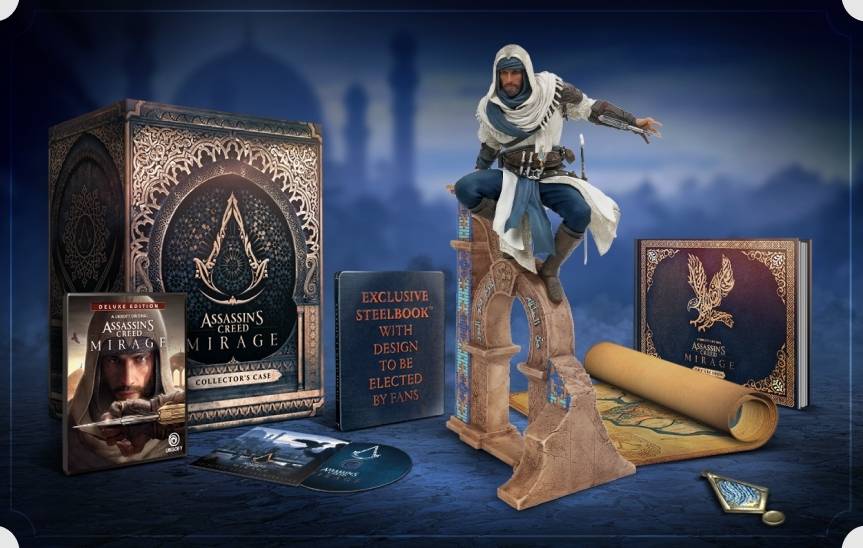 Ubisoft has described Assassin's Creed Mirage as the following.
Experience the story of Basim, a cunning street thief seeking answers and justice as he navigates the bustling streets of ninth–century Baghdad. Through a mysterious, ancient organization known as the Hidden Ones, he will become a deadly Master Assassin and change his fate in ways he never could have imagined.
Experience a modern take on the iconic features and gameplay that have defined a franchise for 15 years.

Parkour seamlessly through the city and stealthily take down targets with more visceral assassinations than ever before.

Explore an incredibly dense and vibrant city whose inhabitants react to your every move, and uncover the secrets of four unique districts as you venture through the Golden Age of Baghdad.