With Season 4 Reloaded of Warzone now live across all platforms, one of the brand new weapons on offer is the OTs 9 SMG.
The OTs 9 is a full-auto SMG modelled after the Kiparis from the original Black Ops. It has an impressive firepower at close range with good visibility while firing. Not to mention that it has reliable recoil control and a small magazine size.
With so many strong weapons in Warzone, what attachments and loadout should you use on this weapon?
Here's our recommended loadout for the OTs 9 and the best attachments.
For the OTs 9, we need to focus on improving its damage output. It struggles at range and has as small magazine size, but its very deadly at close range.
Its a very easy to pick up weapon and should fit nicely into the current meta as a real up-close and personal option.
Here are the best attachments for the OTs 9:
GRU Supressor (Muzzle)

8.1" Task Force (Barrel)

KGB Skeletal Stock (Stock)

VDV 40 Rnd Fast Mag (Ammunition)

Serpent Wrap (Rear Grip)
With a gun like this, you want to improve where its weakest, which is its damage output and mid-range ability. In Warzone, ARs are still very dominate so you need to make sure this gun is able to compete at close to mid-range.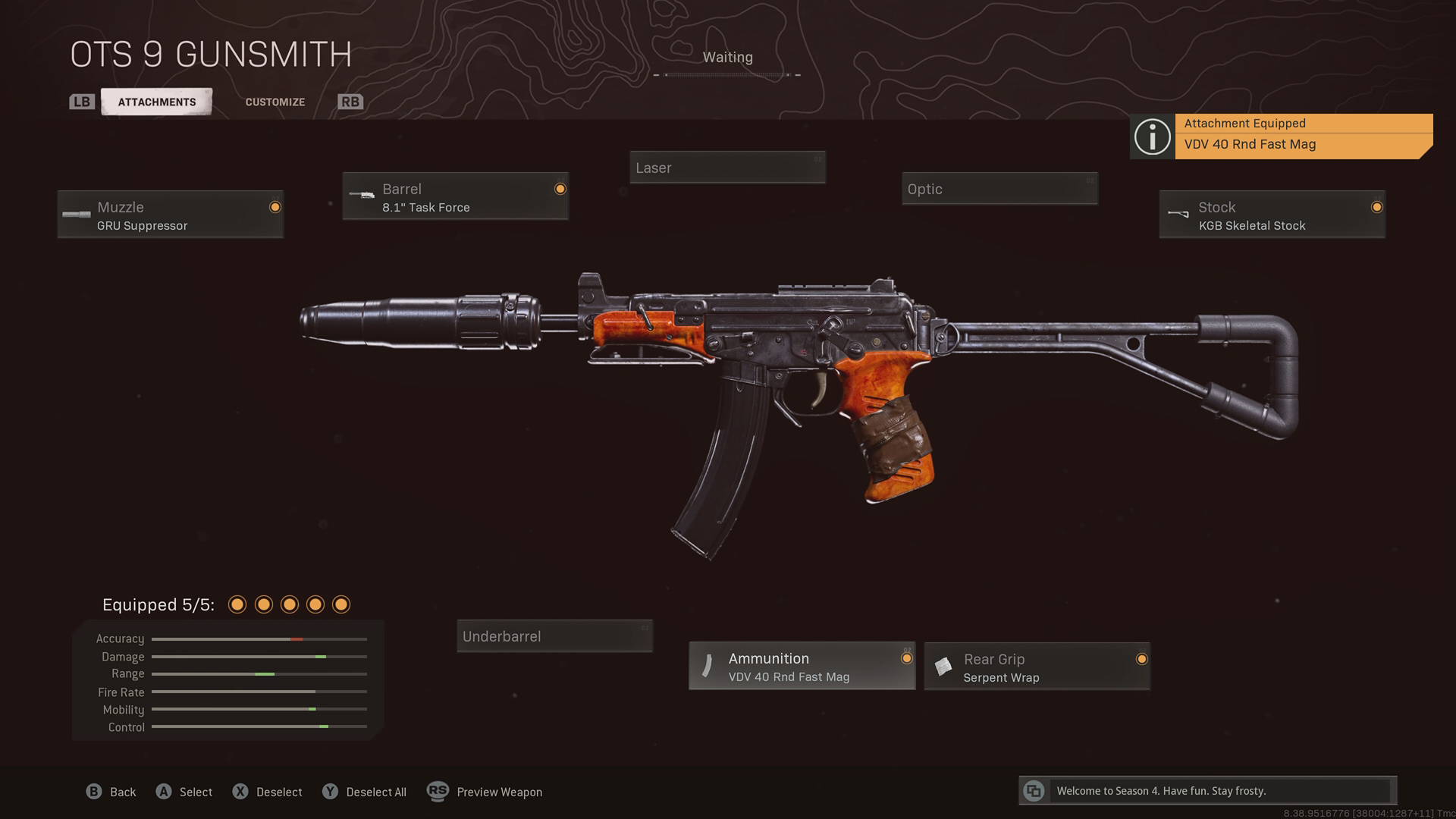 With the OTs 9, I'd argue it's best to go with another primary weapon as it will struggle at range.
The Cold War AK-47 is a good choice. I'd recommend the following attachments:
Axial Arms 3x (Optic)

GRU Suppressor (Muzzle)

20" Spetsnax RPK Barrel (Barrel)

Spetsnax Speedgrip (Underbarrel)

45 Rnd (Ammunition)
It does mean you'll need to take the perk Overkill. If you don't like the thought of giving up Ghost, try equipping a launcher or dual pistols.
I always believe this comes down to personal preference. But I would opt for a Stun Grenade and C4.
The Stun Grenade is good for slowing down enemies and gives you something to work with when moving up the map. Considering this weapon struggles at long range, it's a good option.
The weapon's a little slow to reload and it can run out of ammo fast, having a quick draw C4 in your pocket is great for tricky scenarios and complements the stun tactic well.
We're limited in our choices, due to the need for Overkill, but I would recommend Double Time and Battle Hardened.
Double Time is a solid choice for Verdansk as you can quickly close the gap between you and your opponent while also reducing the time you're out in the open. The closer you get, the better this weapon will perform. You can opt to give EOD is an alternate choice.
Battle Hardened is a good choice to avoid any hinderance from enemy equipment. It's also interchangable with Spotter to avoid running into enemy traps such as C4 and Proximity Mines.
Follow us for the latest updates!