What does the Crew have for you?
As August comes to a start, a new Fortnite Crew Pack will be available soon for players to purchase and use.
If you've yet to jump into Chapter 4 Season 1, the latest is wild and certainly refreshing!
With a new month coming, it's another opportunity for players to pick up a unique skin and some goodies for playing their favourite game.
Here's what we know about the Fortnite Crew Pack for February 2022.
The new Crew Pack should go live at 8PM ET on January 31st - that's 1AM BST on the 1st of February in the UK.

Sylvie attacks with Smith's Slammers.

The Ageless Champion takes 20 damage!
 
A master smith from an ageless kingdom, Sylvie's adventure begins with the release of the February 2023 Crew Pack, going live for all active Fortnite Crew subscribers at approximately 7 PM ET on January 31, 2023!

FEBRUARY CREW PACK: FORGE YOUR OWN PATH

 
In addition to the Sylvie Outfit, February's Crew Pack includes three other items. Fitting for one always near a flame, Sylvie's companion is a (cuddly) fire-breathing dragon. Take this friend with you by equipping the Groaker Back Bling. Groaker will cheer you on by breathing burping fire each time you open a Chest or get an elimination. (Players are able to disable this reactivity in the Locker.) Even adorn your inventory with the Groak'd Wrap!
 
And of course, land a hit on your opponents with Sylvie's dual-wield hammers: the Smith's Slammers Pickaxe.
 
Owners of the February Crew Pack will receive the bonus Forging the Future Loading Screen later in the month. Also, Sylvie isn't the only member of her party — the Outfit of the March Crew Pack will soon be fighting by her side! Players who obtain both the February 2023 and March 2023 Crew Packs will receive The Masterwork Pickaxe, fit for a grand adventure. Stay tuned for info on the March Crew Pack later in February!

MORE FORTNITE CREW BENEFITS: LEGACY SET, SEASON 1 BATTLE PASS, MONTHLY V-BUCKS, AND THE JANUARY CREW PACK

THE PHOTONIC LEGACY SET: CONSTRUCT A CUSTOMIZABLE PICKAXE
For every month you're an active Fortnite Crew subscriber, you'll unlock a new Stage of the Photonic Legacy Set for up to six total Stages. After Stage 1, which is unlocked immediately, the Stages unlock at the same time you receive your monthly Crew Pack while subscribed (the last day of each month at 8 PM EDT / 7 PM EST).


All Photonic Striker Pickaxe Styles.
 
Stage 1 is available to unlock until May 31, 2023, at 8 PM EDT. The Set includes the Photonic Striker Pickaxe, which evolves with each Stage. Stage 1 grants you the Pickaxe, Stages 2-5 grant you alt Styles for the Pickaxe, and Stage 6 grants you color options for the Pickaxe. Find out more in our Photonic Legacy Set blog post!


The Photonic Striker Pickaxe Styles, with different color options selected.
Every month, players can expect to get a series of cosmetics and benefits - usually including an Outfit, Back Bling, Pickaxe and Wrap.
We'll be sure to update this segment when we know more information!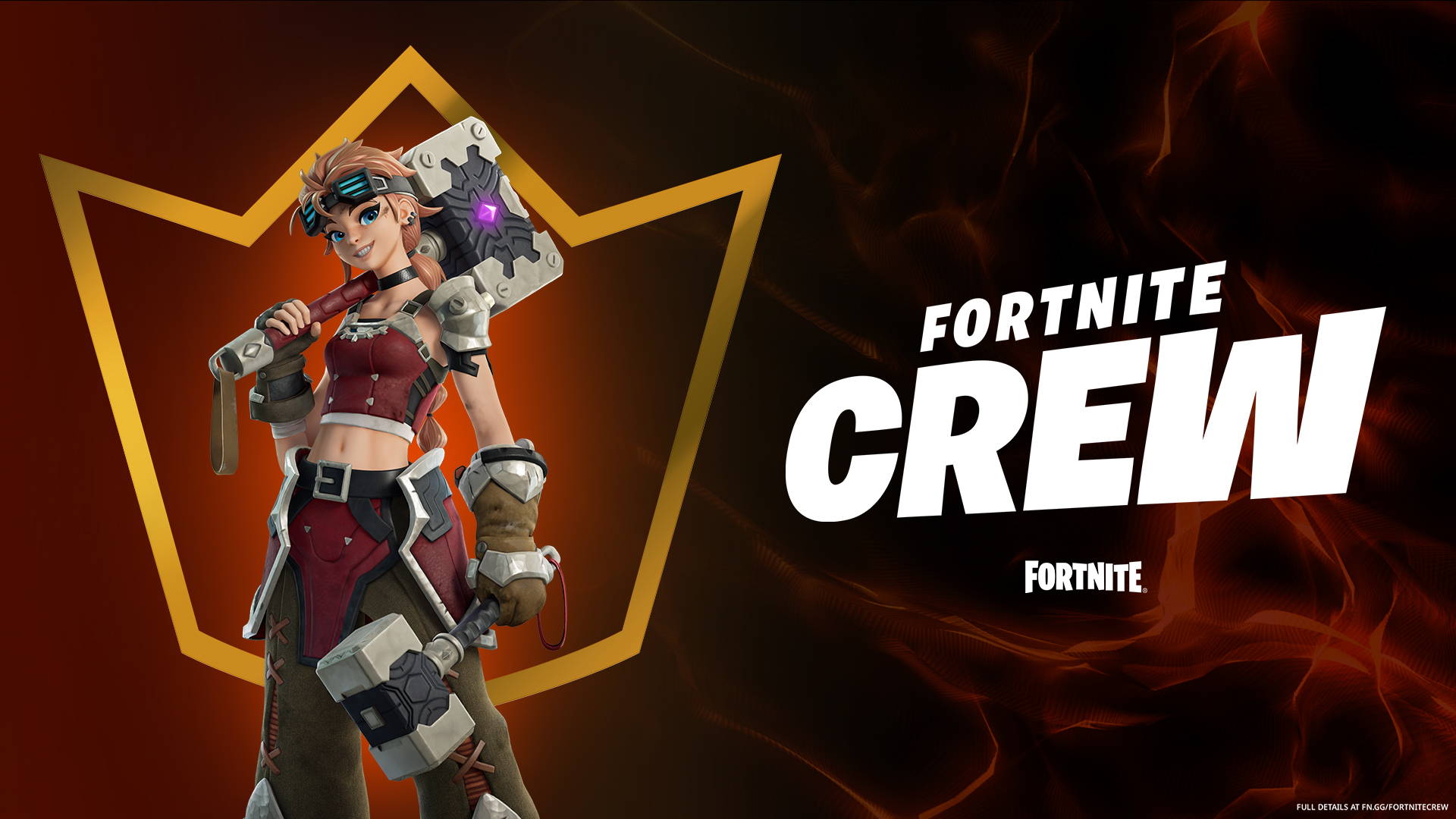 Every month, players can expect to get a series of cosmetics and benefits - usually including an Outfit, Back Bling, Pickaxe and Wrap.
You'll also get the current Battle Pass for free. If you already own in, you'll receive 950 V-Bucks instead; that is on top of an extra 1,000 V-Bucks too.
Players can expect:
New Outfit + Set

1,000 V-Bucks

CH3S5 Battle Pass
Your Subscription is associated with the platform on which you purchased it (your "Primary Platform") until it is cancelled and is not transferable.

How Does The Battle Pass Work?
If you tend to buy Battle Passes, season after season, this could be for you. With the Fortnite Crew subscription, you'll always get access to the current Season's Battle Pass for free. What's even better is if you buy the Battle Pass and then sign up to Fortnite Crew, you'll get your V-Bucks refunded to you.
To join the Fortnite Crew and start your subscription, you should head to the Item Shop in-game or the Battle Pass purchase screen.
This will give you the opportunity to purchase a subscription.
The cost of the Fortnite Crew Subscription is £9.99 a month in the UK, €11.99 in Europe and $11.99 in the US.
You can cancel your subscription at any time and you get to keep your rewards.
To cancel your Fortnite Crew subscription, go directly in-game to the Fortnite Crew tab.
Even after cancelling your membership, you will be eligbile for rewards until the end of your current billing period.
You'll keep all rewards you've earned from previous packs even once you cancelled.
Follow us for the latest updates!