Fortnite more so pioneered collaborations with other titles and modern day culture over the years, as they've partnered up with major studios such a Marvel and DC.
While a Naruto collaboration has been rumored for quite some time, it's now been confirmed that the highly anticipated release is coming very soon.
Here's all you need to know surrounding the new collab between Fortnite and Naruto.
Fortnite X Naruto Release Date

While this partnership has been in the rumor mill for quite some time, Epic has officially confirmed that the Naruto skins will be coming to the Fortnite Item Shop on November 16th, 2021.
This was confirmed via Twitter, and the Item Shop resets daily at 8:00 pm EST, so expect this time for when the skins will release for players to purchase.

Fortnite X Naruto Skins and Leaks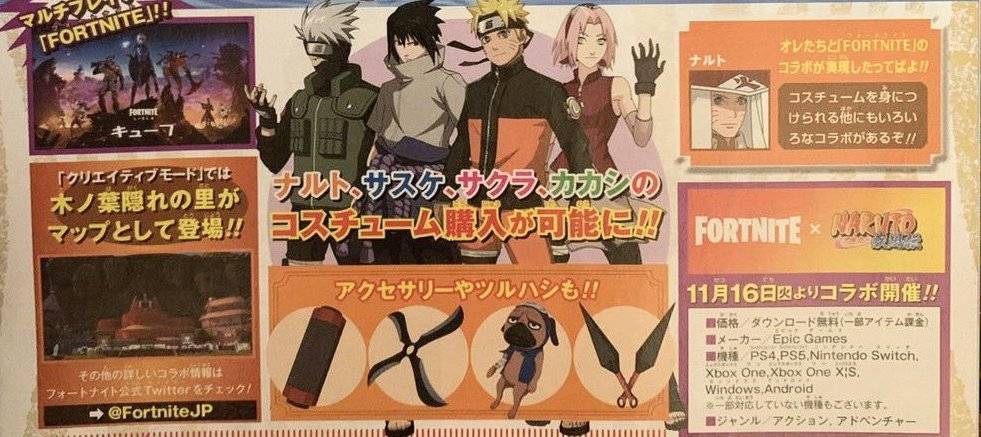 While Epic has confirmed the release date of the skins, they actually didn't post what the Naruto themed cosmetics are going to look like.
However, HYPEX has posted a snippet of what appears to be a screenshot/newspaper clip of the confirmed Naruto skins and backblings.
Players will be able to purchase the following skins.
Naruto

Sasuke

Sakura

Kakashi
They will all come with their own unique backbling as well, and the skins themselves are modeled after the events in Naruto Shippuden.
Fortnite X Naruto Items and More

The skins aren't all that's coming to the game, as within the leaked image which we've posted above, we can see that the Hidden Leaf Village is going to be some sort of Creative Map for players to dive into.
As well, HYPEX has noted in the past that we could see useable Kunai in game for players to fling around. So, we'll have to wait and see how deadly these rumored weapons will be within Fortnite.