League of Legends next update, patch 11.17, will arrive in August.
Following the 11.16 update, we'll see how the previous changes affected the game and whether Riot need to make some big changes in it's next one.
As for skins, the Crime City set is being released for 5 champions, as well as the Phoenix set for 3.
Here's what's new in update 11.17 for LoL.
The 11.3 update will arrive in League of Legends on Wednesday 25th August 2021.
Here's roughly when you can expect the update to roll out:
3 am PT (NA servers)

5 am GMT (EUW servers)

3 am CET (EUNE servers)
Graves

Q mana cost is now 80 (was 60)

Irelia

Q heal 8-16% AD instead of 12-20%

Kayn (Blue)

P Bonus Magic Damage reduced to 8-30% from 12-44%

Leona

W Bonus Armor/MR decreased to 15-40 from 20-45

Viego




AA range decreased to 200 from 225

P healing on taking a body is now 3% (+0.3 BAD)(+0.02AP)(+5AS) is now 8% (+.025 BAD)(+.015AP)(+2.5AS)

Q Crit scaling changed to 1 from .75

E Camo Radius increased to 450 from 400

R Slow duration decreased to .25 from .5

Zed

Q AD Ratio increased to 1.1 from 1

E ratio reduced to 0.65 from 80

R CD increased to 120-80 from 120-60
Ekko

P Damage against Monsters increased to 200% from 150%

Evelynn

R CD decreased to 120-80 f rom 140-80

Lissandra

AD increased to 55 from 53

Q Mana Cost reduced to 55-75 from 60-80

Nami

Base HP increased to 490 from 475

W Mana Cost reduced to 70-110 from 70-130

Senna

AD ratio increased to 0.45 from 0.4

Crit Damage increased to 160% from 150%

P Soul Rate drop on minion kill increased to 8.33% from 4.1666%

Teemo

E Damage on Hit increased to 14-58 from 11-55

Xayah

Q cast time decreased to 0.25-0.1 Scaling with Attack Speed from 0.25

R Damage increased to 200-400 from 125-375
Akshan

Passive Bug Fix: Second attack will more consistently complete on targets when the first attack was executed at max range

Passive Bug Fix: Improvements in predicting in the first attack will kill the target, including shields on the Target and On-hit effects on Akshan like Wit's End/Kraken Slayer

W Counterplay: Akshan can no longer claim Scoundrels when he is dead

E Damage changed to 30-110 + 17.5% Bonus AD from 30-130 + 10% Bonus AD

E Bugfix: Heroic Swing will no longer end early on Towers

R Bugfix: Minions will be consistently executed, regardless of Armor bonuses (like Hullbreaker or Baron Nashor)

R Cooldown: When cancelled by Crowd Control/Untargetability changed to 5s from 15s

Amumu

Base Stats:

Health per level: now 75 from 80

Armor per level: now 3.5 from 3.8

Bandage Toss (Q):

This ability has now got two charges with a recharge time of 14 seconds

Damage dealt has decreased to 70/100/130/160/190 from 80/130/180/230/280

Cooldown decreased to a flat 3 seconds from 10/9.5/9/8.5/8 seconds

Despair (W):

Damage dealt per tick has increased to [6/8/10/12/14 + 0.5/0.575/0.65/0.725/0.8% (+0.25% per 100 AP) of target's maximum health] from [4/6/8/10/12 + 0.5/0.625/0.75/0.875/1% (+0.25% per 100 AP) of target's maximum health]

Curse of the Sad Mummy (R):

Duration of stun effect decreased to a flat 1.5 seconds from 1.5/1.75/2 seconds

Gangplank

Passive move speed changed to 15-30% by level from 30%

Q now counts as a ranged basic attack

E benefits from Critical strike at 125% effectiveness

Max Barrels is now 3/3/4/4/5 instead of 3 at all ranks

Rechage time is now 18/17/14/15/14 from 18/16/14/12/10

Lucian

Stats:

Base Attack Damage decreased to 62 from 64

Lightslinger (P):

Ally buffs now "empower Lucian's next two (stacks to four) basic attacks to deal an additional 14 (+10% tAD) magic damage"

Max auto stacks is now 4 instead of 2

Ardent Blaze (W):

Mana Cost decreased to 60 from 70

Allies proccing the mark also trigger Vigilance

The Culling (R):

Damage dealt per shot has decreased to 15/30/45 (+25% AD) from 20/40/60 (+25%AD)

Number of shots has changed to 22 (+25% Critical Strike Chance) from 22/28/34

Rengar

Unseen Predator (P):

Max Ferocity Stacks: 4>3

[MODIFIED]: Jump no longer greats a stack if at 0

Ferocity Falloff Time: 8>10

Empowered Cast MS: 30/40/50%> 20/25/30%

Bonetooth Forgiveness Timer: 1.5s>3s

Battle Roar (W):

Rengar roars, dealing 50 = (50+80%) magic damage to nearby enemies and grants 10 Armor and Magic Resist, increased by 50% for each Champion or Large Monster hit beyond the first.

Max Ferocity: deals 50 = (50-220 + 80%) magic damage and additionally Heals Rengar for 50 = (50-337), increased by 50% for each Champion or Large Monster hit beyond the first.

Deals an additional 65 = (65-130) magic damage to jungle monsters).

Damage [50/80/110/140/170]

Cooldown [16/14.5/13/11.5/10]

Armor and Magic Resist [10/15/20/25/30]

Bola Strike (E)

[NEW]: No cast time when leaping

[NEW] Reveals enemies for 2 seconds
These are detailed by @JeevunSidhu.
Crime City Akali is also being updated from the PBE to be more "demon-y".
Divine Sunderer

Serpent's Fang

Lethality is now 12 from 18

Wit's End

On-hit Magic Damage is now Non-linear scaling (15 levels 1-8, 25-80 levels 9-18) from 15-80 (Linear Scaling Levels 1-18)

Hullbreaker

Youmuu's Ghostblade

Caulfield's + Dirk + 700 (2900g total) from Dirk + Pickaxe + 1025g (3000g total)

AD is now 55 from 60

Now has 15 ability haste

Fleet Footwork

Healing is now 10-100 + 40% Bonus AD + 30% AP from 3-60 + 30% Bonus AD + 20% AP

Minion Mod is now 20% (melee)/10% ranged from 100% (melee)/20% (ranged)
Crime City Akali - 1350 RP

Crime City Darius - 1350 RP

Crime City Shaco - 1350 RP

Crime City Zyra - 1350 RP

Crime City Twisted Fate - 1350 RP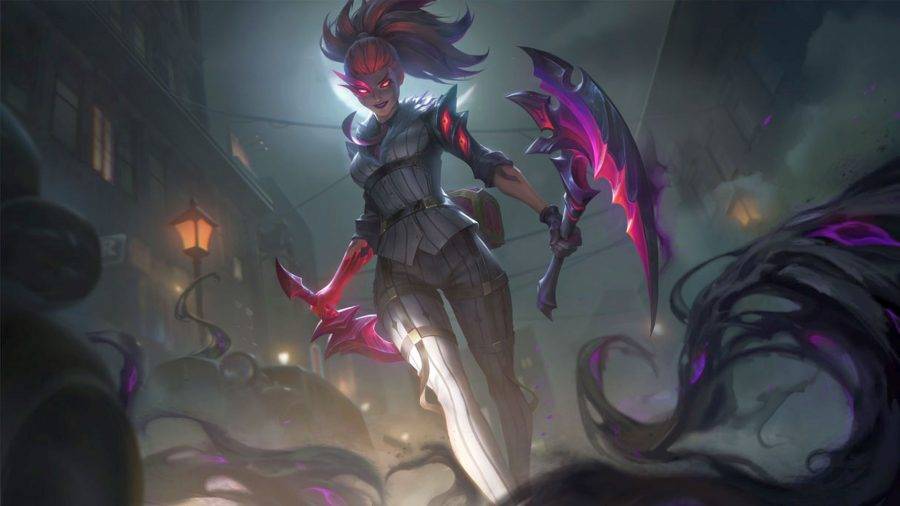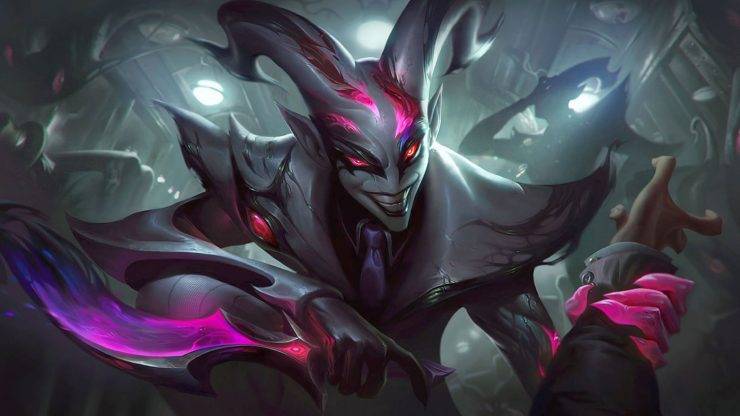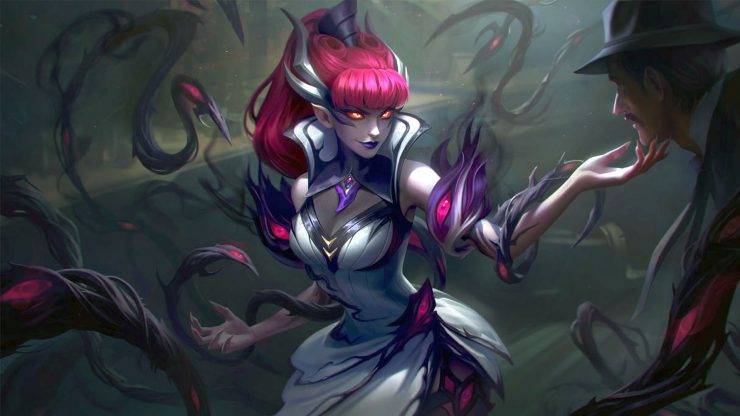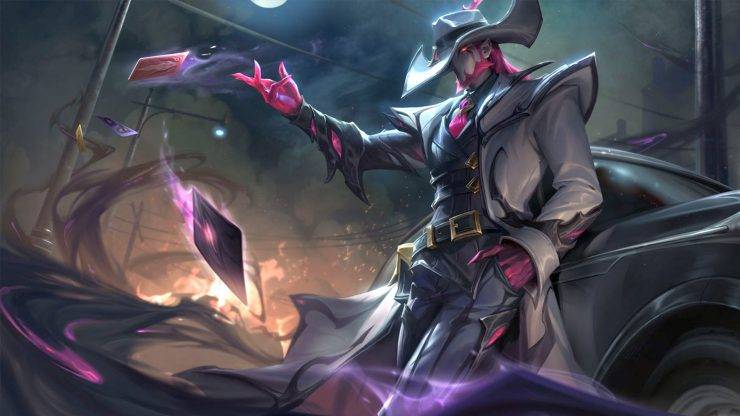 Divine Phoenix Anivia

Graceful Phoenix Seraphine

Crime City Shaco - 1350 RP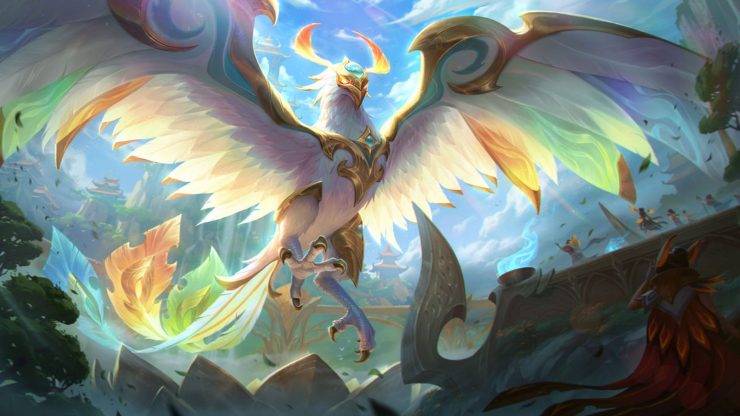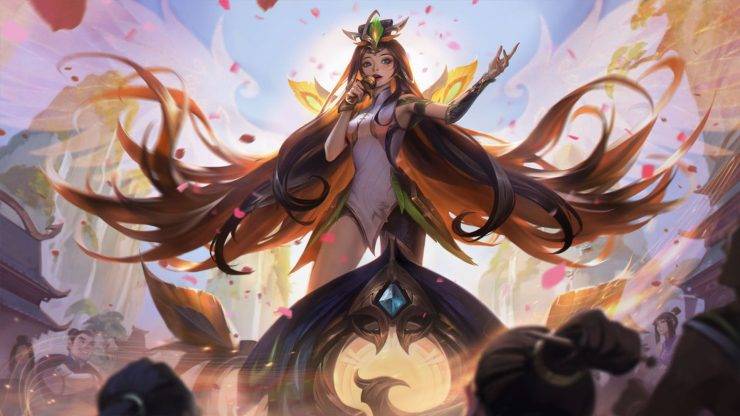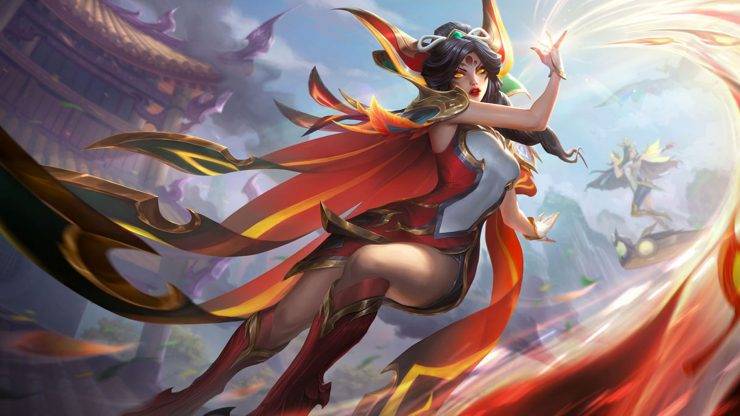 Follow us for the latest updates!