New World's hot release in October is starting to lose some momentum as players explore other games, but that's not stoping Amazon Games from updating the MMO RPG on a weekly basis.
Update 1.0.6 appears to have been cancelled in favour of the 1.1 update "Into the Void".
The most recent update swatted a number of bugs and was a big Halloween focused update.
Here's what's new in update 1.0.6 for New World!
This week was expected to release this past Thursday, but has yet to relase. Perhaps the next update is delayed or weekly updates are no longer going to be the norm.
Once we have more clarity we'll update you here.
Downtime takes place from 2PM GMT/

3PM CET/7AM PT/

8AM CT/

9AM ET.
The update size is never more than a few GBs.
Instead of patch 1.0.6, New World are moving to update 1.1 instead.
We can expect a new gold duplication glitch to be patched very soon as it once again runs rampant in New World.
On the 17th November, downtime was held that saw the re-enabilisation of Wealth Transfers (with the exception of housing decoration items) and "Immobilised" players will now respawn properly.
In the meantime, New World has detailed a number of updates coming to the game that you can see below.

New World has issued a Dev blog update that details all of the changes they're looking to combat in future updates including:
Server Transfers

Region Transfers

Server Merges

War Declaration Issues

Luck

Incentivizing Players to Join a Less Dominant Faction

Our Stance on Exploits

Quest and Quest Design

Representation and Character Customization/Design

Minimap

Company Concerns

Combat Responsiveness

Weapon Balance Changes

Weapon and Armor Perks

Public Test Realm

Void Gauntlet

Crafting and Gathering
You can read the full details here.
The Public Test Realm acts as a staging area for new potential updates to be tested before going live to the public. It's a good idea to have this feature implemented as it will prevent unfinished, buggy or unwanted updates crawling into the main servers.
You can read all of the details on this here.
The most recent Prime Gaming rewards are Robin Hood inspired.
Robin Hood Pack #1

Robin Hood Skin

Blow Kiss Emote

Prime Blue (x5) Dye Pack

Robin Hood Crest Packs

Robin Hood Pack #2

Robin Hood Bow

Finger Wag Emote

Amazon Orange (5x) Dye Pack)
The next pack available will be the Autumn King Pack #1 on the 23rd November.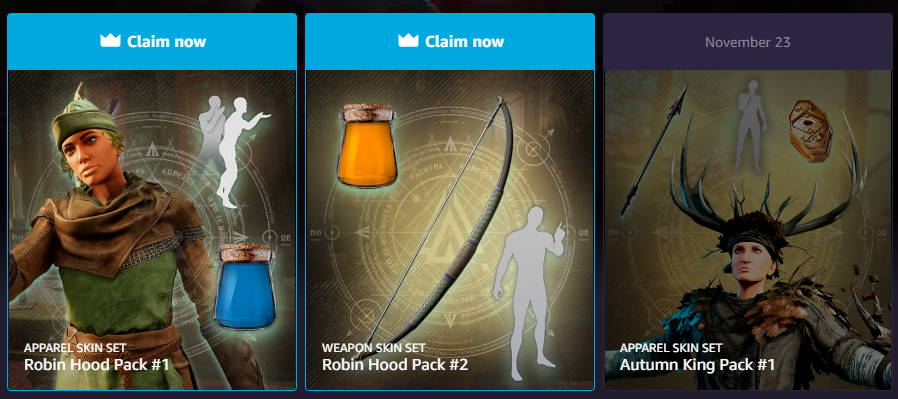 The Store has been updated to coincide with Halloween and will support the below items until the 15th November.
To thank players for their commitment to the game, all players will be granted a happy Jack-o-lantern housing decoration (for free) from the in-game store.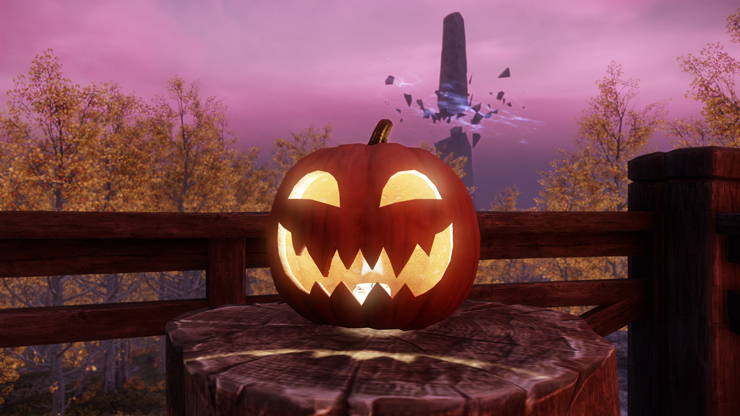 Check out the new items available in the store:
Armor Skins

BLOODTHIRSTY COUNT - 14,000 Marks of Fortune

SHROUD OF THE PHARAOH - 14,000 Marks of Fortune

SKELETAL CHEVALIER - 16,000 Marks of Fortune

Weapon Skins

FRANKENSTEIN HAMMER - WAR HAMMER WEAPON SKIN - 8,500 Marks of Fortune

SKELETAL RAPIER - RAPIER WEAPON SKIN - 8,500 Marks of Fortune

CRIMSON BLOODLOCK - MUSKET WEAPON SKIN - 8,500 Marks of Fortune

BLACK WIDOW STAFF - LIFE STAFF WEAPON SKIN - 8,500 Marks of Fortune

PHARAOH'S CURSE - GREAT AXE WEAPON SKIN - 8,500 Marks of Fortune

Masks

ELEMENTAL MASK - 7,000 Marks of Fortune

DEMON MASK - 7,000 Marks of Fortune

ELUSIVE ONE MASK - 7,000 Marks of Fortune

PLAGUE DOCTOR MASK - 7,000 Marks of Fortune

Housing Items

HAUNTED HOUSING DECOR BUNDLE - 25,000 Marks of Fortune

Emotes

COURTEOUS APPLAUSE - 4,000 Marks of Fortune

COIN TOSS - 5,000 Marks of Fortune

Consumable Dye Packs

CONSUMABLE DYE PACKS - 3,000 Marks of Fortune each