Vanguard next chapter begins with Season 2 - which sees massive changes to multiplayer and Zombies
Vanguard Season 2 will see plenty of new content, including new killstreaks, equipment and perks. While Warzone will be introduced to new features, map changes and game modes.
Zombies is also getting a complete overall with tons of new content.
Here's what you need to know.
Season 2 is releasing on February 14th, 2022 after the original date was delayed by almost two weeks.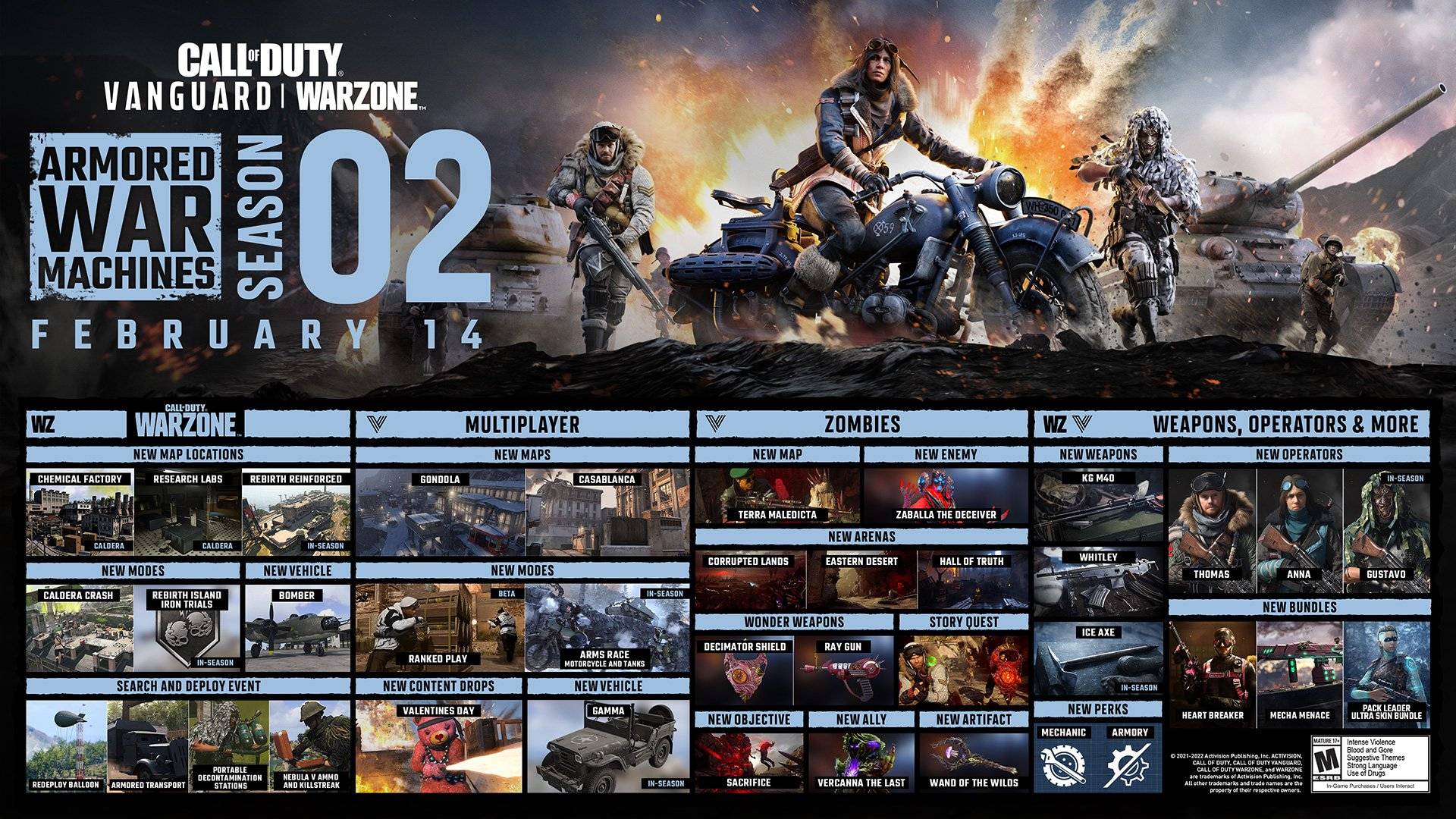 Global
New Battle Pass

New Weapons

New Operator
Vanguard
Ranked Play

New Maps

New Perks

New Equipments

Zombies updates
Those who pick up the Battle Pass also receive these instant rewards, along with access to all content across its 100 Tiers:
Rare "Black Leaf" Constanze Müller Skin
Season Two XP Boost
45-Minute Double Weapon XP Token
Anna Drake Skin (Tier 1)
Ball Turret Gunner (Tier 1)
Epic "Dark Owl" Sniper Rifle Blueprint (Tier 5)
KG M40 (Tier 15)
Mechanic Perk (Tier 21)
Rare "Woodgrain" Shotgun Blueprint (Tier 24)
Whitley (Tier 31)
Sticky Bomb (Tier 39)
Armory (Tier 44)
Epic "Helvetia" Submachine Gun Blueprint (Tier 59)
Legendary "Austrian Leather" Light Machine Gun Blueprint (Tier 65)
Legendary "Khepri's Curse" Light Machine Gun Blueprint (Tier 95)
Legendary "White Mirage" Anna Skin (Tier 100)
Legendary "Postmodern" Assault Rifle Blueprint
Pick up the Battle Pass Bundle, and you will receive access to all 100 Tiers plus 20 Tier Skips to instantly advance through a fifth of the Pass. You will also get a Legendary Bonus Skin for Wade Jackson.
Full Battle Pass details can be found here.
Adopted across several Scandinavian armies during the war, and the preferred weapon of Anna Drake, the KG M40 is a high-caliber, fully-automatic weapon that rivals the first three Assault Rifles unlocked in Vanguard.
Boasting the second highest damage per shot in its category, a similar effective range to the NZ-41, and a fire rate above 600 RPM, this weapon can be a strong contender in mid- to long-range engagements. Its strengths can be fully unlocked when an Operator can control its recoil, a mix of horizontal and vertical kicks like the Cooper Carbine, but with slightly better centering speed.
The KG M40 comes with three 25-round 8 mm Klauser rounds by default, which can be upgraded to a 35-round drum for a solid Multiplayer Loadout. Those looking for a new Warzone Primary should level this up right to its 50-round .30-06 drums, as the increased power and capacity suit it better for skirmishes between two teams along with the occasional third-party squad.
Dive into its barrels, and you will see a burst modifier for those looking to potentially pivot from the Itra Burst, a few others tailored toward either recoil control or speed, and a fire rate boost that nearly doubles recoil — a high-risk, high-reward choice for skilled Operators.
The Whitley represents one of the first machine guns ever used in warfare, rivaling its Battle Pass brother for a strong mid- to long-range tool across all three game modes.
Despite its age, this LMG is highly customizable, and even in its base form it plays a niche role with the best damage per shot compared to its four Vanguard competitors. In Multiplayer, you may need only two shots out of its 80-round magazine to down an enemy, but only if one is a headshot. And although its slow fire rate can annoy impatient Operators, its low recoil can quickly eliminate targets. This predictable pattern keeps it steady when firing out to the second-best effective range in its class, so long as the Operator adjusts accordingly.
Take a trip into the Gunsmith and you'll find that its .30-06 Round Mags can be upgraded to fit 120 bullets, more than enough for squad combat, or swap it out for the massive 160-Round .50 BMG Boxes, which grant a serious boost to damage per shot. There are also four barrel options, two of which bump up fire rate, with one ramping it up to over 1,000 RPM with default ammo at the cost of some damage.
This weapon may have great potential across Vanguard and Warzone, but if you have skills like Thomas Bolt, the Whitley may soon become your favored weapon.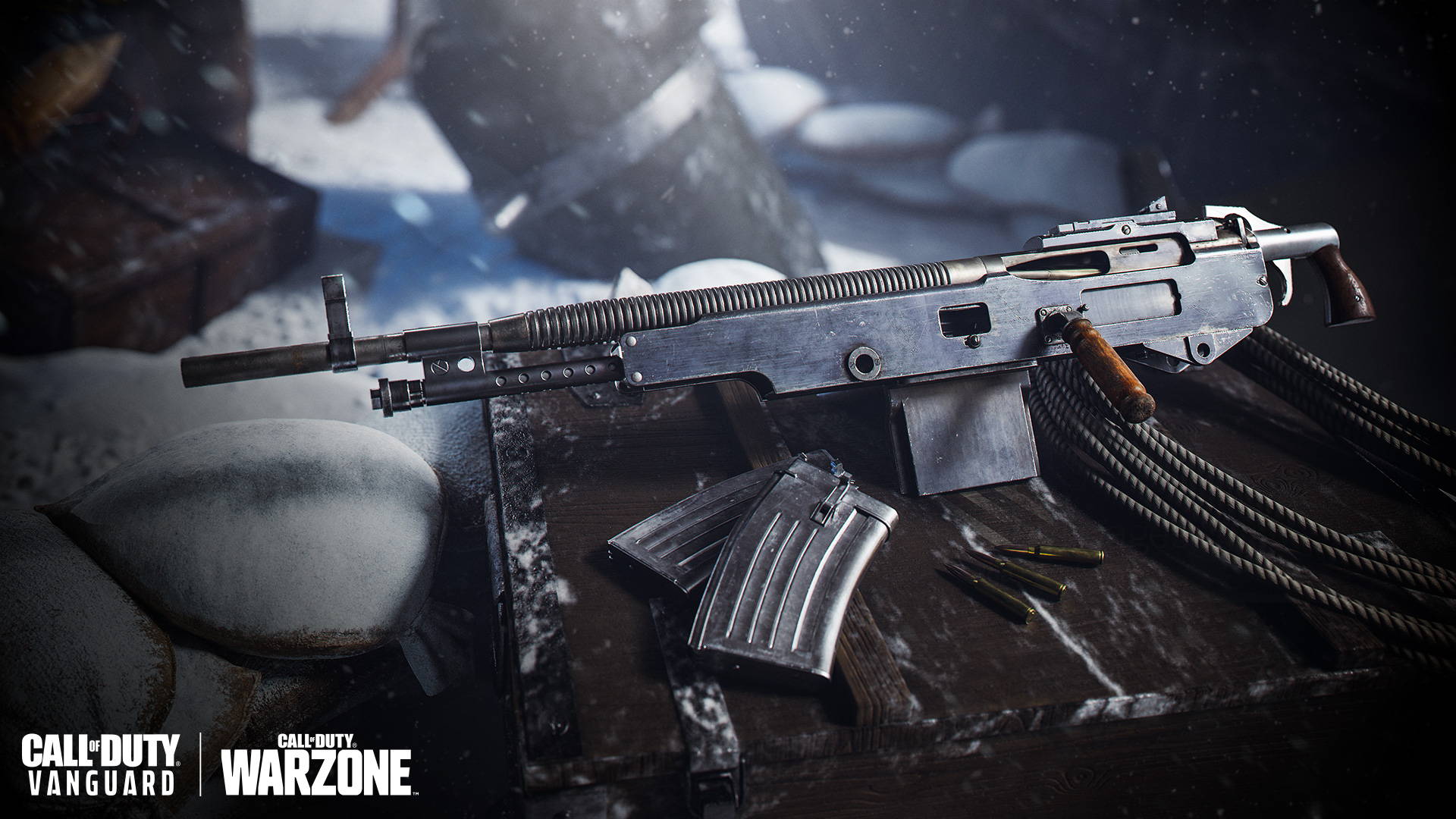 Anna Drake
Born in Vienna and witness to the Axis destroying everything she loved, Anna Drake will stop at nothing to bring vengeance down on those who hunt the vulnerable.
Learn more about her, and the rest of Task Force Yeti, in our biographical overview for this new squad here.
Anna Drake comes with her cold-weather gear via the default "Overcoat" Skin, and calls the brand-new KG M40 her Favorite Weapon. Level her up to unlock thousands of Player XP and Weapon XP for the KG M40, two additional Operator Skins, two Quips, a chilling new Finishing Move, and more.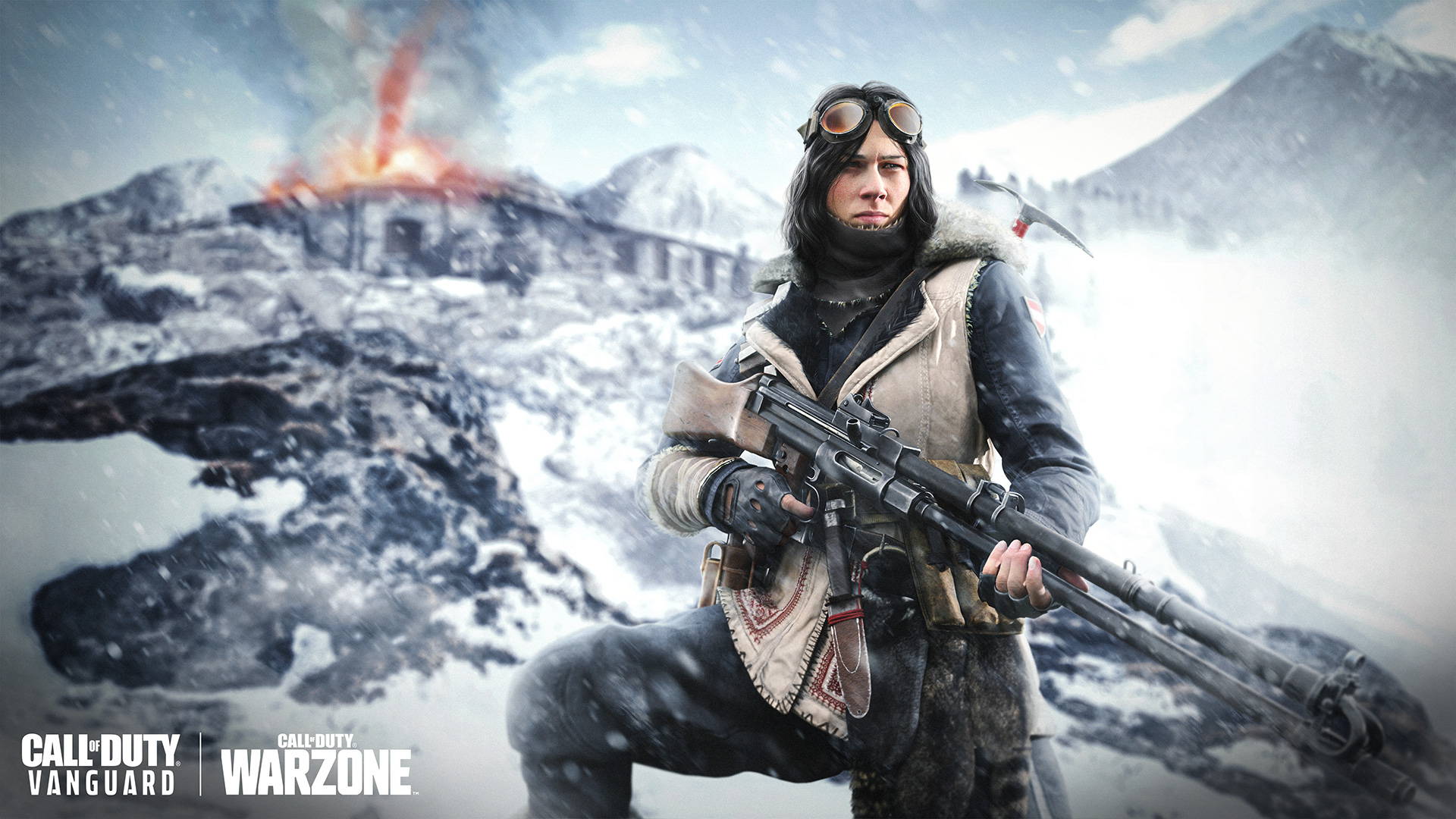 VANGUARD MULTIPLAYER
Prove yourself in Ranked Play. Launching alongside the 2022 Call of Duty League season, expect to begin your Ranked journey and play like the pros.
Two new Multiplayer maps. Duck through the busy streets of Casablanca or partake in some ski-shooting in Gondola, two midsized maps ready to be mastered.
Free Perks, Killstreak, and Equipment in Battle Pass. Prepare to switch up those Loadouts and shoot for a 12-Killstreak — the Season Two Battle Pass is stocked with free Multiplayer content for all to use.
Ranked Play
Recently, Toronto Ultra bested 11 other elite professional squads at the Call of Duty League's Kickoff Classic.
As the league continues its regular 2022 season schedule following an exciting Opening Weekend, Vanguard will offer a bespoke Multiplayer Ranked Play mode (launching in Beta at the start of Season Two) featuring league-approved rules, visible Skill Ratings, and new competitive rewards among other innovations from Treyarch and Sledgehammer Games.
Stay tuned later this week for more information about this fourth pillar of Vanguard in a dedicated broadcast from the Call of Duty League and Treyarch.
Two New Core Maps: Explore Casablanca, Watch Your Step on Gondola
From North African deserts to the European mountains, Season Two is serving up two traditional Multiplayer maps at launch, as well as the largest locale in Vanguard yet during the season.
Casablanca (Launch)
A shining jewel of Morocco, Casablanca is a medium-sized, three-lane-style map within a bustling marketplace. With several buildings to explore and climb upon, expect a variety of vertical engagements that invite a variety of close- to long-range tactics.
Gondola (Launch)
Don't look down on this medium-sized, three-lane-style map. Take a trip on the Gondola to travel above a large gulch and fire watchtower, but hop off before it rides off the cliff! Operators can also take advantage of the long sightline this gondola route provides, or head through the power plant and caves for more close-quarters battle.
Sticky Bomb— Lethal Equipment
A familiar sight for veteran players, the Sticky Bomb is a direct rival to the Frag Grenade and Gammon Bomb as a throwable explosive equipment piece.
Consider it the perfect choice for those stuck between a Frag and a Gammon Bomb.
Armory — Perk 1
A direct counter-Perk to Engineer, Armory is ideal for Operators who use more than just their weaponry in combat, namely placeable Demolition Charges, concussion mines, and placeable Field Equipment pieces.
Mechanic — Perk 3
Mechanic provides a reasonable buff to Field Upgrade charge time, making it a must-have for completing challenges related to them or for Operators who love using them.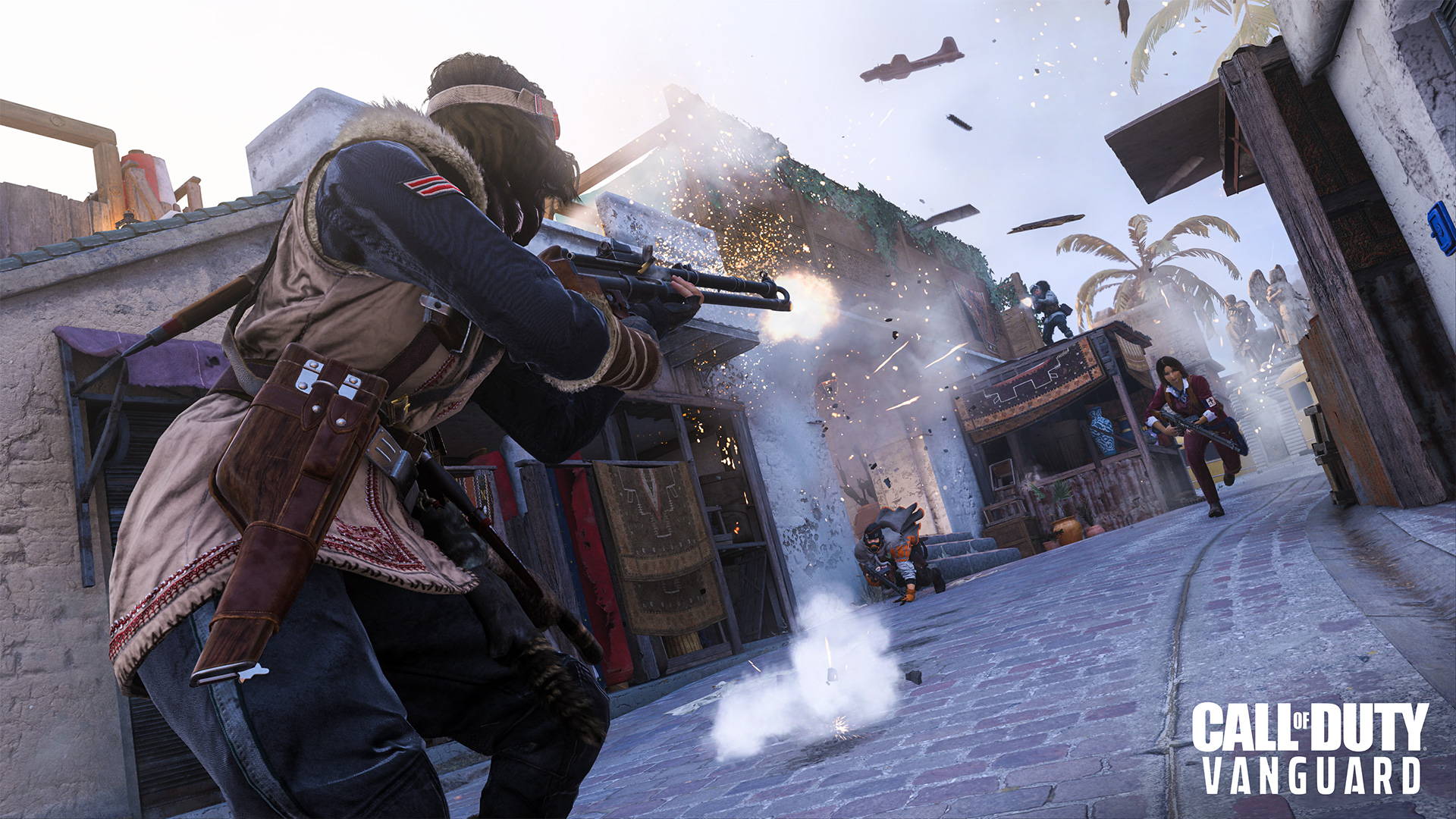 Dimensions shift and the Dark Aether opens. The undead assault heats up in Egypt's Eastern Desert, where a portal to the Dark Aether opens alongside other new arenas…
A new Artifact gives you strength to conquer the Deceiver. Vercanna the Last joins the fight to tend to your squad's wounds with Healing Aura… and aid against the three-faced Zaballa the Deceiver.
Wonder Weapons to aid with new Objective & Story Quest. Wield the Ray Gun and Decimator Shield alongside new armaments as you partake in Sacrifice and uncover the secret to defeating Kortifex.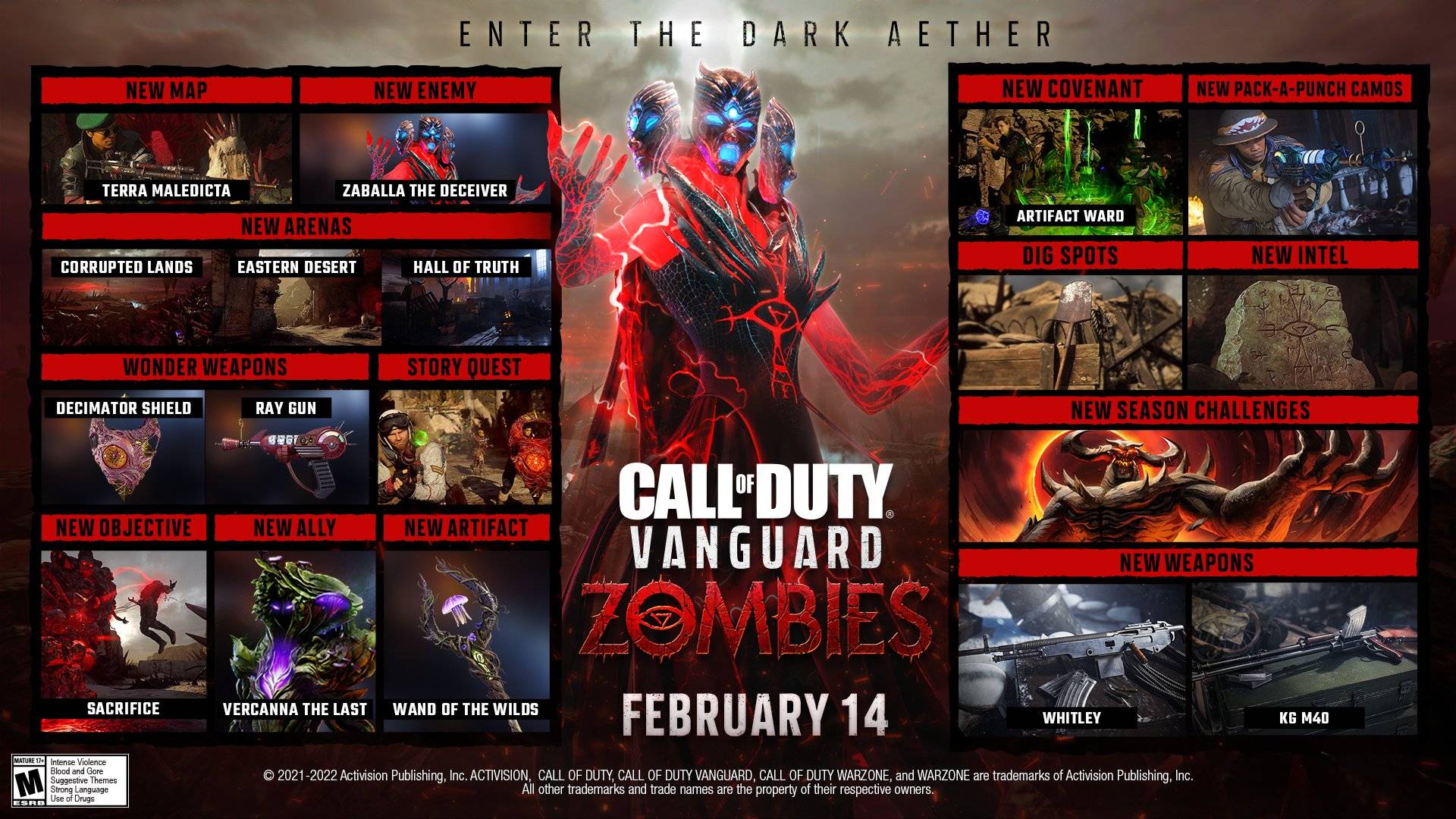 New Hub Map and Arenas "Terra Maledicta"

"Der Anfang" was only the beginning. As the undead army prepares to invade a new front, Krafft and company take the fight to Von List in "Terra Maledicta," a new Zombies experience set in Egypt's Eastern Desert and abroad.

Gateways to new arenas will open, including the Dark Aether itself in an entirely new location for Vanguard Zombies. Professor Krafft and his Special Forces fighters have established a "beachhead" within the Dark Aether in the fight against Von List, where they'll risk everything to obtain a lost page from the Tome of Rituals.

New Ally and Foe: Vercanna the Last and Zaballa the Deceiver

The Dark Aether entities continue a supernatural war through the mortal world as a new ally appears and a powerful enemy makes her presence known.

New Artifact Power from Vercanna the Last: Healing Aura

Vercanna the Last is the latest Dark Aether entity to lend her powers to the battle against Von List and Kortifex. A newcomer to our world, Vercanna seeks revenge on Kortifex for wiping out her entire clan. She is the Last of her kind, and joins Krafft's allies at a crucial moment in the war on the undead.

Her elemental command of Life Energy through her Artifact, the Wand of the Wilds, grants the player the Healing Aura ability that can be crucial in combat. By default, activating her Artifact will send beams of light down on all Operators, instantly bringing them back to full health.

Healing Aura's base ability and upgrade tiers include:

Tier I (Base): The Wand of the Wilds summons Vercanna's Life Energy to instantly heal yourself and allies to full health.
Tier II: Knock down normal enemies and stun Special enemies near each player.
Tier III: Revive all downed allies.
Tier IV: Revived allies have their lost Perks returned.
Tier V: The Life Energy persists at each player's location for 10 seconds and continues to heal and revive players.

Zaballa the Deceiver — A Cunning and Shifty Trickster

Those brave enough to survive in "Der Anfang" or "Terra Maledicta" for multiple rounds will come across Zaballa the Deceiver, a powerful enforcer from the Dark Aether unleashed upon the world by Kortifex. For thousands of years, she served Kortifex as one of his "Sisters of Agony," and her deep history with the existing Dark Aether entities means they all have scores to settle with her.

A chaotic evil charlatan with a devious sense of humor, Zaballa's true face hides behind three masks. These give her the strength to hover away from Operators, striking beneath the surface with electrical eruptions at a moment's notice.

Although she is resistant to many forms of attack, that which gives her energy could also be her greatest weakness…

Wonder Weapons Return, Both Old and New

Our Special Forces Operators already have access to dozens of ballistic-based weapons, as well as some melee tools, to fend off the undead. But in Season Two, the four new weapons across Vanguard and Warzone are just the beginning of what Zombies fans can expect in their arsenals.

Through a bit of exploration, elite skill, and perhaps some divine intervention, Operators can wield two Wonder Weapons: energy-based arms with mysterious origins and herculean effects in battle.

Explore "Terra Maledicta" to discover the Decimator Shield, an all-new Wonder Weapon offering superior protection and the mighty Decimation Blast ability. With a unique personality of its own, the Decimator is only too happy to help Krafft's freedom fighters take down Von List's undead army.

The other Wonder Weapon is one that veterans will be familiar with: the classic Ray Gun returns to Zombies! The gold — or rather, bright red — standard for Wonder Weapons since Call of Duty®: World at War, the Ray Gun fires circular enemy beams that can tear zombies apart in just one shot. Look for it in the Mystery Box, or as a lucky loot drop during a match.

New Sacrifice Objective, Story Quest, and Side Easter Eggs

Vanguard Zombies' sixth Objective calls upon players to disrupt a gruesome Dark Aether blood-magic ceremony. Grotesque structures known as Syphoncores will suck the essence out of the surrounding undead. Once they feed, the Syphoncores will spawn more zombies than they consumed, unleashing the horde upon the world. Prevent the zombies from filling all three, and the dark ceremony will be thwarted.

"Terra Maledicta" also presents players with a special Story Quest that introduces Vercanna the Last to the action and gives players access to the mighty Decimator Shield. A series of special tasks and narrative revelations will advance the Dark Aether saga, as players search for a missing page from the Tome of Rituals that may be the key to defeating Von List and Kortifex.

In addition, side Easter Eggs are returning in Vanguard Zombies, this time inspired by the classic "Origins" map from Black Ops II. Pick up a shovel and find loot hidden throughout the Eastern Desert, and dig even deeper to uncover all the secrets "Terra Maledicta" has to offer.

New Covenant: Artifact Ward

A new ability joins the Altar of Covenants with three tiers of rarity. Equip Artifact Ward for a chance to trigger your Artifact for free when hit by a melee attack from the rear, which can come in clutch when your squad's in trouble during higher rounds.

Artifact Ward's three rarities are as follows:

Rare: Being hit by a melee attack on the back has a chance to trigger your Artifact
Epic: Being hit by a melee attack on the back has a higher chance to trigger your Artifact.
Legendary: Being hit by a melee attack anywhere has a higher chance to trigger your Artifact.