With Vanguard's debut season underway, new weapons have been added to the expansive roster including the Cooper Carbine.
The Cooper Carbine is the first unlockable weapon in the Season 1 Battle Pass. This US Armed Forces weapon is a bit of a hybrid in-game, working equally well up close and at range. Not to mention that it doesn't require much ranking up to become super effective.
Here's the best loadout for the Cooper Carbine in Call of Duty: Vanguard.
Best Cooper Carbine Class for Vanguard
With a staggering, 10 attachments to pick on your weapon, you're truly spoilt for choice.
When choosing your attachments, you'll want to consider what attachments will improve this weapons weak areas and how you tend to play.
The Cooper Carbine differs from most ARs within the game, it excells in short range battles with it's above average fire rate and damage output. It's also very accurate and packs a punch giving it a strong presence at range.
This hybrid rifle doesn't need much time in terms of levelling up to unlock a flurry of strong attachments for it either; which is what makes it so popular.

Muzzle

Barrel

Optic

Stock

Underbarrel

Magazine

Ammo Type

Rear Grip

Proficiency

Kit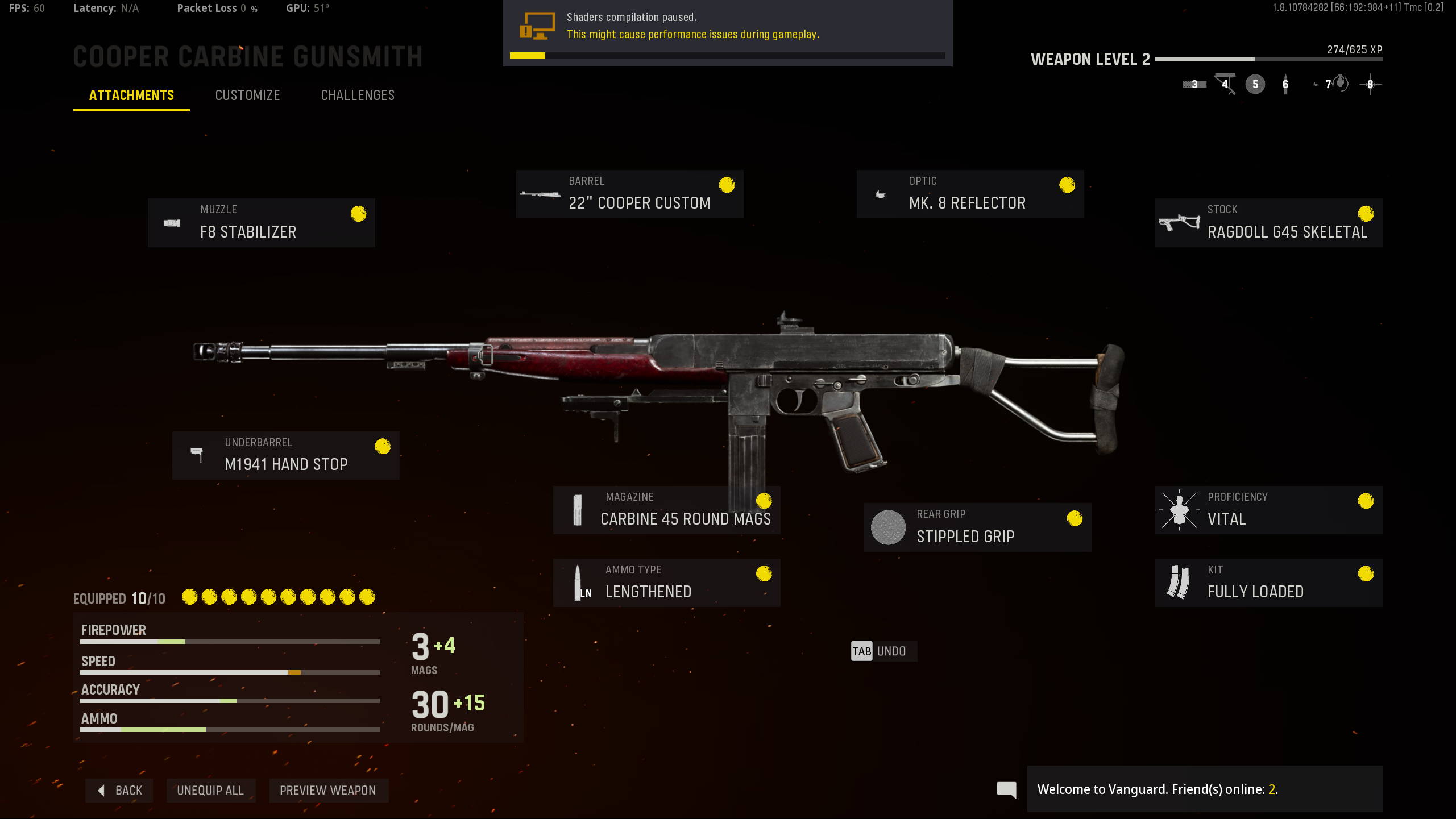 There's some Muzzle attachments that are decent for the Cooper Carbine but like most weapons, the F8 Stabilizer is the best choice here.
Your Barrel choice will be the 22" Cooper Carbine, as it bolsters the weapons damage and fire rate.
Your Optic comes down to preference in my opinion the MK. 8 Reflector is one of the best within the game.
For Stock, we've picked the Cooper Custom Padded to offset the added recoil from the magazine attachment. The Cooper 45RS is also great.
The Underbarrel option is one that's subject to change depending as there's some decent options here once again. We've chosen the M1941 Hand Stop for more recoil recovery.
The Magazine attachments are vast, but the Carbine 45 Round Mags offer some increased damage to the weapon itself.
We've chosen the Lengthened ammo type, but players can choose other options such as Subsonic or FMJ.
More recoil buffs comes into play with the Rear Grip choice we've opted for with the Stippled Grip.
Your Proficiency also has viable options, but, Vital is without a doubt the best route to go too.
Your
Kit
option is going to be Fully Loaded as the increased fire rate we've gone with in favor of other attachements, you're going to need the additonal ammo.

I would go with the Machine Pistol, simply because it's regarded as one of the best pistols within Vanguard. As well, you're going to need something fast if you run out of ammo in a pinch.
The Gammon Bomb explodes on impact, and will be useful when pushing certain points throughout the map.
While on the flipside, the Stim Shot is going to give players some additonal health when they're in a pinch.
Ghost

Tracker

Lightweight
Ghost will keep you off the enemy radar while is always viable at any given time.
Tracker lets you see enemy footsteps, which can enable you to head where the other team is pushing towards.
The third perk is Lightweight, allowing you to move faster.
As the name suggests, this Field Upgrade will allow players to put a bullet proof vest on their player during certain times; givng you some more health.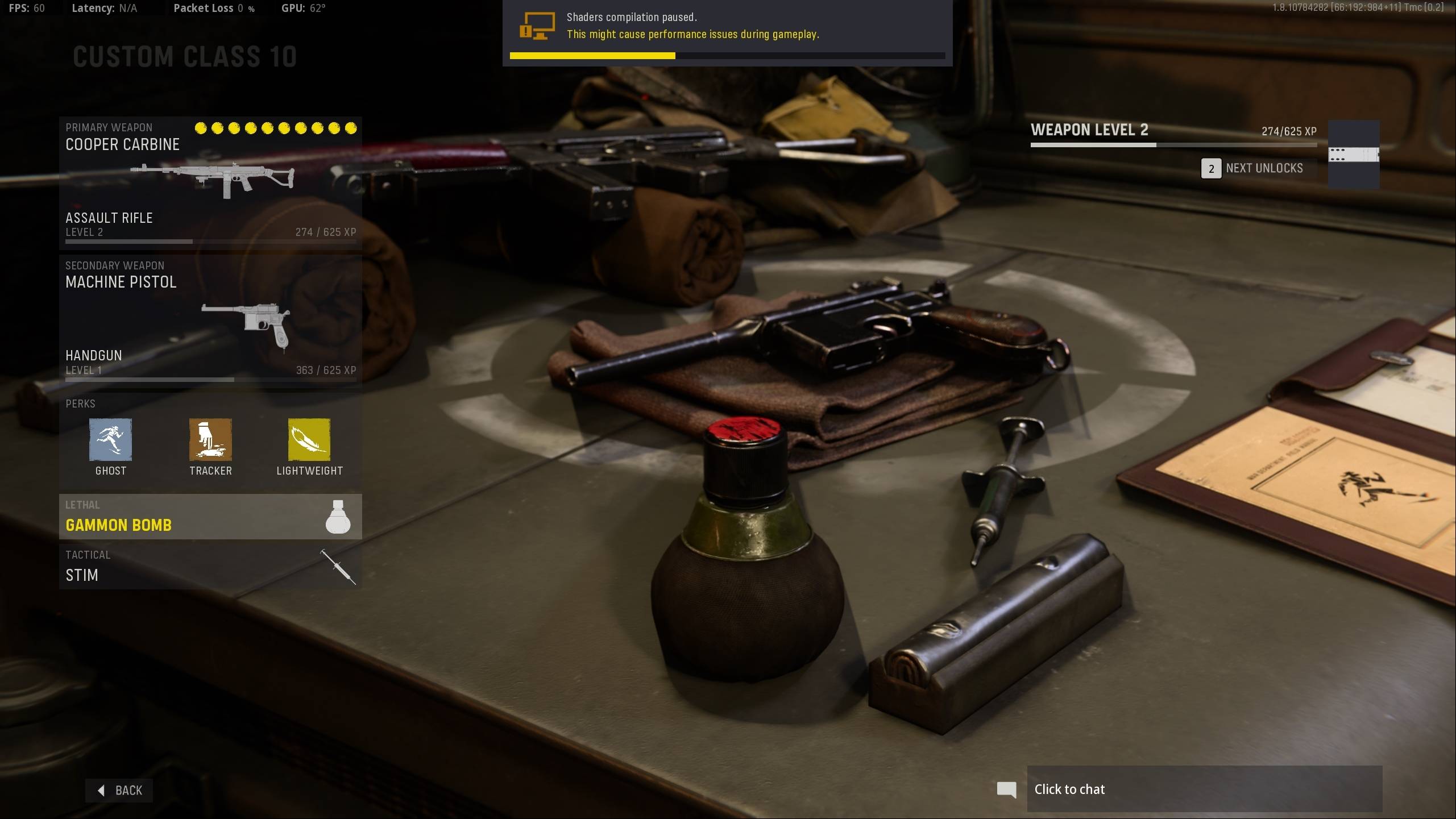 Follow us for the latest updates!